Sea Angling at Redcliffe Bay
Of all the sites listed in the pages this is the odd one out. It is inaccesible, has no facilities and you can only reach it by walking. For this reason even in the height of summer you will often find a deserted beach. Some people appreciate quiet and solitude while sea angling so I have included it for this reason.
Fishing is best near the rocks at either end of the beach, the eastern end, i.e. furthest from Weymouth, being the best. The species that can be caught here include mackerel, pollack, pouting, bass, wrasse and rays.
To reach this site follow the directions to Bowleaze Cove (see separate Bowleaze Cove page) and continue along Bowleaze Coveway down to the funfair where the road narrows, keep straight on until the road ends at a gate to a track. This is the coastal footpath. Even if Bowleaze Coveway is full of cars, as it usually is on a fine day in summer, you can usually find a space to park here in the public road. From here you have to walk along the footpath following signs to Osmington Mills. When you reach Redcliffe Bay you will see steps leading down to the beach. From the end of Bowleaze Coveway it will take at least half an hour to walk to this point. If you are not too fit or have children in tow it will take much longer!
There is another footpath and road from Osmington that leads to the same point. However, there is no convenient place to park a car in Osmington and the road leads to a hotel that caters for adventure holidays. There is strictly no public parking at this point.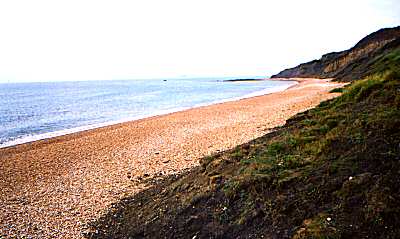 Redcliffe Bay looking westward. Redcliffe Point can be seen and Weymouth is in the background.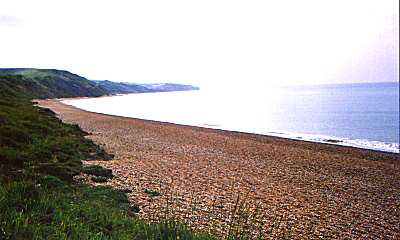 Redcliffe Bay looking eastward towards Osmington.