Sea Angling at Lodmoor beach
This is the area of beach immediately opposite a car park that serves the Lodmoor Nature Reserve. If you have found the correct spot you will find yourself between two water outlets marked to the right by a rocky outcrop and to the left by a concrete platform. These mark areas that serve as a drain from Lodmoor, so there is often an outflow of fresh water which is reputed to attract bass. There is also another large car park close by that serves the Lodmoor public house and the other nearby attractions such as the Sea Life Centre and Model World. There is also the Country Park where you can ride on a model railway.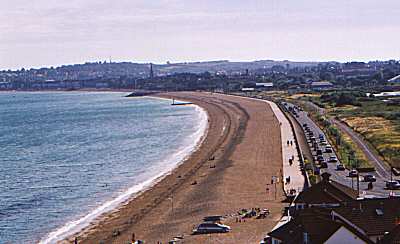 The beach opposite Preston Beach Road
Apart from bass you can also catch flounder from here but mainly at distance i.e. 80 to 100yds offshore. Even on a hot summers day this particular area of beach is less crowded than most so it may be possible (but unlikely during the heat of day) to fish from here in the height of summer.
However, please note that this is not the most productive area for fishing and your chances of catching anything here is probably less than most other marks mentioned.