Weymouth Angling and Fishing, Dorset, UK.
This site is intended to be a guide for sea anglers who want to do some fishing in and around Weymouth but, at the same time, have other members of the family to consider. It is not a tutorial on sea angling baits, rigs or tactics for catching fish. The 'marks' mentioned may not always be the most favoured by the local sea anglers but are easily accessible and have facilities for parking, refreshments and toilets nearby.
For tourist information about Dorset see the Visit Dorset site. For all other facilities in the area and contact details for sea angling tackle shops around Weymouth please use the "Links & Contacts" page.
Like most areas, sea angling in Weymouth is generally better at dusk or after dark. Luckily there are exceptions as mackerel and garfish can be caught, sometimes in large numbers, all along the Chesil Beach and from Weymouth's Stone Pier. It is possible to start at the Chesil Beach Centre and as the family begins to lose interest move along to the attractions of Abbotsbury (which are many and varied) or further along the coast to West Bexington.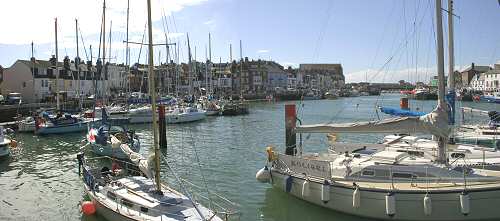 Weymouth's Old & Picturesque Harbour
Other species that can be caught during the day are trigger fish and black bream. These are best targeted at marks near the Chesil Beach centre.
For all tourist information about Dorset visit the Dorset Tourist Information website.
For detailed information about events, restaurants and accommodation in Weymouth take a look at the Visit Weymouth website.
Happy Weymouth Angling.